If you love shrimp (and aren't allergic) then I must highly suggest that you make your own Homemade Shrimp Stock for your next seafood-y soup or risotto.
Oh yes!!! Shrimp STOCK!

So, don't freak out. Unless you absolutely, 100%, hands-down HATE shrimp. Or are allergic. BUT if you love shrimp and are not allergic, then I must highly suggest that you make your very own homemade shrimp stock for your next seafood-y soup or risotto.
Shrimp broth (or stock) is surprisingly easy, or as easy as you want to make it. It can be as basic as shrimp shells and water for a quick light stock. Orrrr go on and gussy it up with onion, carrots, celery, herbs and spices. You get to choose your own adventure here.

Today, we're gussy-ing. Natch.


TO MAKE HOMEMADE SHRIMP STOCK YOU WILL NEED:
light olive oil
shells from 1 to 2 pounds of shrimp
onion
carrot
celery
garlic
parsley
bay leaf
whole coriander
black peppercorn
water
Believe it or not, this is my first stock or broth recipe to be posted on SS. I do have others broth recipes, both a vegetable broth and chicken broth– which can be found in my book. But after recently having the most amazing soup at a local restaurant, I tasted my way through it, bite by bite. Which then inspired me to make and test out a recipe for homemade shrimp stock.
BECAUSE I'M PRETTY SURE IT WAS IN THE SOUP THAT I ATE.

This whole process takes a little bit of time, if you're new to this shelling process you can see how I did it in this post. If you're more familiar then this process should take about 25 minutes. I listen to my favorite station on Pandora while doing this which makes it much more bearable. Once you've successfully peeled and deveined all the shrimp, rinse the shells under cool water. I also rinse the shrimp too, but separately.
Then I just drizzled a teaspoon of safflower oil into the bottom of my heavy bottom pot and then dumped in the rinsed shrimp shells, onion, carrot, celery and garlic. Then simply cook over medium heat for about 10 minutes.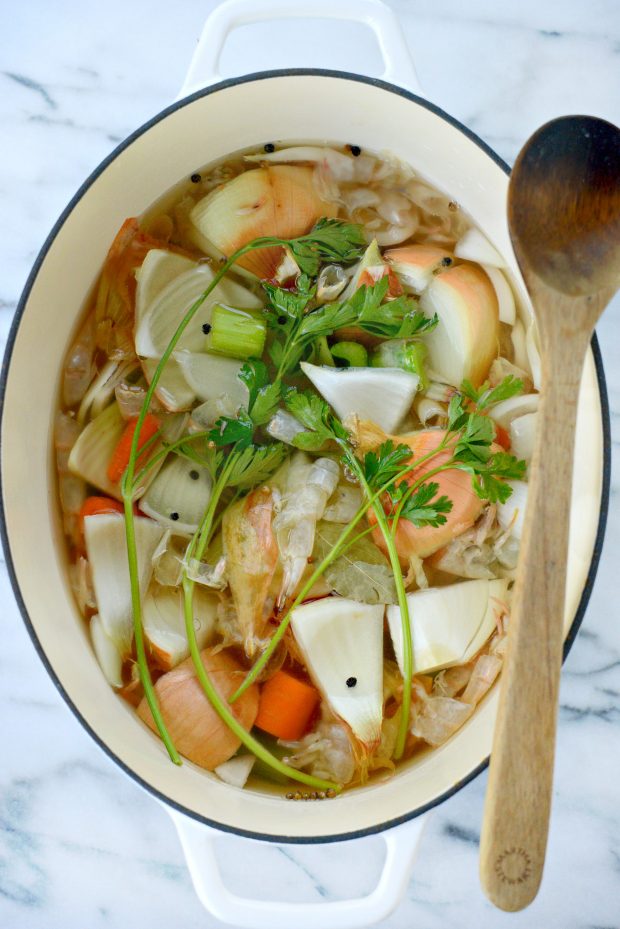 After the 10 minutes are up, add in the parsley sprigs, bay leaves, peppercorns and coriander seeds along with 6 cups cool water. Now just cover–leaving the lid askew–and bring to a boil. Once at a rolling boil, reduce the heat to low and simmer for 15 minutes.
FUN FACT!
The peels from the onion will help deepen the color of the broth to a beautiful rich golden color. I always leave the peels on when making homemade broth or stock.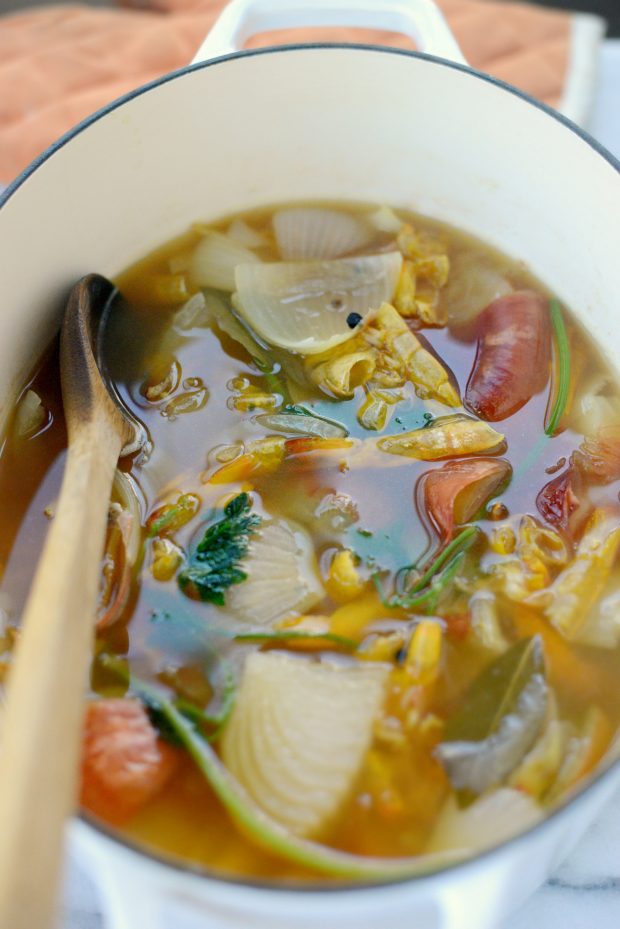 That's it! See how easy AND how pretty!?

Ladle most of the veggies into a mesh strainer that is set into a large bowl before pouring the rest of the homemade shrimp stock through. Allow to cool, then store it in pre-measured, freezer-safe containers or ice cube trays for easy portioning later on when cooking.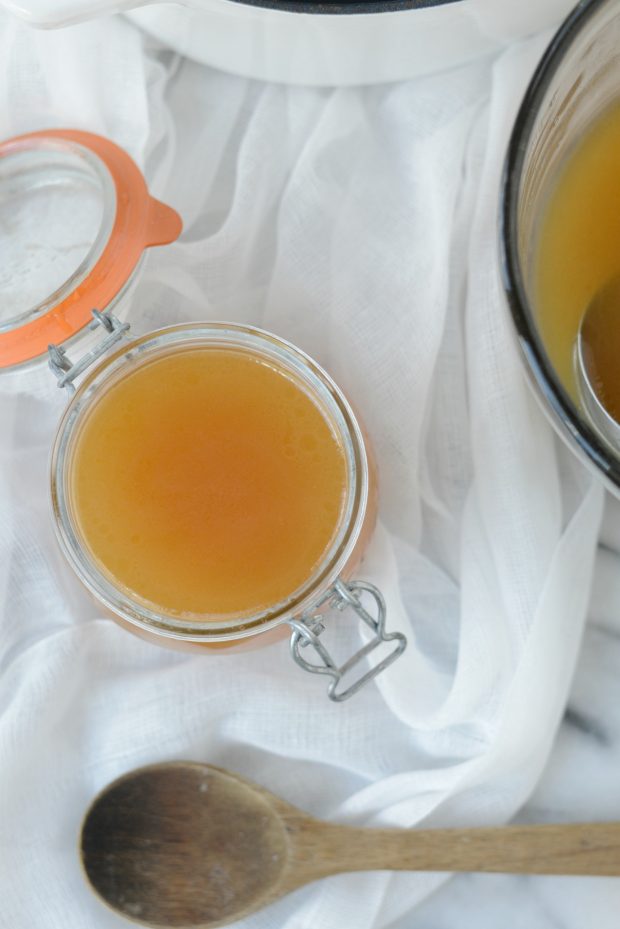 ENJOY! And if you give this Homemade Shrimp Stock recipe a try, let me know! Snap a photo and tag me on TWITTER or INSTAGRAM!